Education
Education and curriculum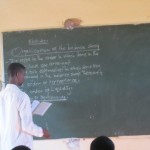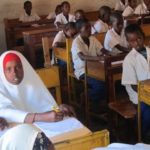 The project currently caters for the educational needs of 791 children in the primary school and 280 in the secondary school. As education is not compulsory in Somalia – it is estimated that only 15% of the rural population pass through primary education and 4% through secondary – pupils can begin their education at any age and special provision has to be made for those starting their education at a later stage in their development. As a result, pupils are categorised more by their number of years' of study than their age and teenagers are encouraged to start education as well as those at the normal age for primary schools.
The curriculum at the school is broadly that laid down by the state authorities of Puntland:
| Primary school | Secondary school |
| --- | --- |
| English* | Maths |
| Maths | Social studies |
| Basic science | Physical education |
| Social studies | English |
| Physical education | Somali |
| Art | Geography |
| Somali | History |
| Geography | Physics |
| History | Chemistry/Biology |
| Arabic | Islamic studies |
*started in second year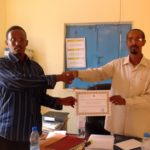 In order to meet the educational needs of the ever increasing number of pupils, the project has a teaching staff of 27 and a further 5 involved in religious instruction. Of the 27 teaching staff, 8 have teaching qualifications and a further 9 have degree level qualifications in a variety of subjects. All the rest have been educated to at least secondary level. There are also a significant number of support staff. Paying and maintaining the qualified staff is the principal aim of the funding available as it is seen as the basis of all the project's work.
The project has been recognised as among the best in Somalia especially given the area that they serve and has been praised by the Puntland state authorities most recently on their visit in September 2015.
For further information on the project or the situation in Somalia, go to "Contact Us" and send us your inquiry.