On 19th October 2016 in the presence of the director general and vice minister of the Puntland Ministry of Education and with financial help from Care International, a foundation stone was laid and work began on the building of a boarding school for female students to match the long established boarding school for male students. This will allow the project to take female students from further afield. Abdigafar Abdulkadir, Head of Care International, said that his organisation had chosen to fund this work because of the project's track record, its self reliance and the fact that it had been providing similar facilities for boys for 15 years. The minister and his deputy in turn praised the project and the work done by the Bursaalax community and indicated that other areas should follow their example.
A delegation from the Mudug regional authorities and Puntland State Department of Education recently visited the project to view the extension to the water network linked to the two boreholes drilled in Bursaalax.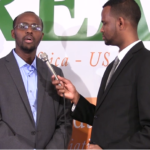 Pictures from a fundraising event held in Minneapolis, USA to raise funds for the vocational school.