HISTORY OF READ HORN OF AFRICA (BUR SALAH PROJECTS)

The beginning of the 'Bur Salah' Project
Bur salah is situated North-west of Galkaio within the district of Mudug. Bur Salah is located on the border which separates Ethiopia and Somalia. The city of Galkaio is the capital of the district of Mudug. Bur Salah is located approximately sixty Kilometres away from Galkaio.

Bur Salah was one of the areas most affected by the internecine war that occurred between the last Somali regime and the SSDF Militia (Somali Salvation Democratic Front). After the collapse of the Somali government in 1991, Bur Salah became home to those who were most affected by the militia and subsequently fled the civil war in the south of Somalia.

All the Somali political administrations dating back from Independence have done next to nothing in helping Bur Salah, not even in contributing to a single school, hospital or even running water.
First borehole

Water resources within Bur Salah were very little or non-existent prior to the establishment of Bur Salah project. In 1994 a group of intellectuals were behind the creation of a central borehole within Bur Salah. Both the people and the livestock barely had enough water to sate there hunger and it is because of this that the region become a place people forgot.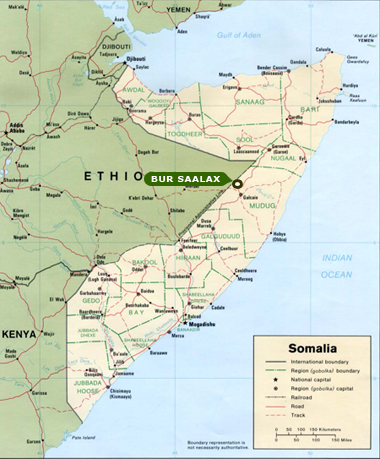 I (Chair of Read Horn of Africa) was born in the upper region of Bur Salah in 1964, and for some time have been thinking on how to begin creating sustainable development within this forgotten region. Our first meeting in London was organised in August 1999 to bring together those most concerned about the future of Bur Salah. Our plan was to set up a charity - with Bur Salah being at the fore front – called 'EID' and 'EELAD'; Education and Development.

Our next step was to make contact with the large Diaspora of Somalis' living in North America, Europe, Australia, New Zealand, Africa and the Arab states. We did this in order to garner a larger base of support and to further our goals for this new charity in order that they may give us the aid required.

Towards the end of 1999 we sent a small delegation - led by a Dr Abdisalam Hassan Abdi - in a bid to organise the people and to create a committee with the sole task of advancing the Bur Salah project with a united community aiming for success.

In the year 2000 we created a web page, a first of its kind which brought together expatriates and others who sincerely wished to take a helping hand in the project. This website helped us and will continue in aiding us gain more awareness and publicity for our projects.
Bur Salah School

After much preparation In July 2000 without announcement Mr Mahamud Yusuf Issa flew to the city of Galkaio. This was so he could make contact with the people and to finally begin working on the foundations of this fledgling project.

In September 2001, the first foundations of building a primary/intermediate school were laid. This school was to consist of ten class rooms, two administration offices, eight toilets, a store room, and a water reserve container.
In September 2002, the school was officially opened and the first classes were held. In addition, at the end of 2002, a dining hall and a boarding area with sleeping arrangements were completed. The dining hall could facilitate for over 100 students to dine within, and the boarding area was designed to look after orphaned children as well as those children whose parents could not financially look after.
The opening of the school was a reason why the region of Bur Salah quadrupled in size both in terms of people and the number of jobs being created. From that point onwards Bur Salah became a place which drew the hearts and eyes of those who had their roots there. Every year many more people come to visit Bur Salah from all corners of the world.

Birth of Read Horn of Africa

In July 2003, 'Read Horn of Africa' was officially registered as a charity with the Charity Commission in United Kingdom
.
The year 2004 marked the completion of a second borehole within Bur Salah Town that would enable its inhabitants to have adequate water as well as allowing the people to have clean affordable running water. In between 2005 and 2006 numerous drought relief events were held to safeguard the lives of several thousand Somalis and their livestock from starvation and severe water shortage.
A water supply project was instigated in 2007 to fit homes in Bur Salah with pipes to distribute clean running water. This project is still continuing until present day.

2008 marked the completion of a new high school which will go on to teach up to more than 200 students on yearly basis. The current population living in Bur Salah and surrounding area now are more than 20,000 people. It has become a place where people reside and study peacefully. In terms of relative peace Bur Salah has become one of the most sought out places in Puntland, Somalia. The town is maintained and patrolled by Puntland Police who maintains the peace, a watershed moment in Bur Salah's history.

Bur Salah is now a place of education for 1031 students, all who are either in primary education, secondary education or within adult learning institutes.
Our policy for the year 2010 is to find a means by which we can set up vocational training schools which would teach craftwork, mechanical work, business and finance.

Our immediate needs are to have a health care centre and sanitation facilities.
Those who are interested in helping us with our educational pursuits along with other projects, we are here at Bur Salah and welcome you with open arms!

We are very grateful to those who helped us shoulder this heavy burden so that we are where we are today, we thank those NGO's which have helped us and the individuals who have contributed generously from the Somali Diaspora.

Thank you once again.

Mahamud Yussuf Issa.
Chairman.