Administration
Project management and governance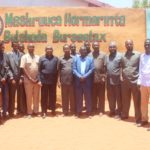 The project is the ultimate responsibility of a London based charity- Read Horn of Africa (Charity no.: 1098424) – whose committee have ultimate responsibility for:
collecting money raised from the worldwide Somali diaspora and the channelling of that money to those directly responsible for the project. The charity has no offices and is run by volunteers so there are no overheads and all the money has a direct impact in Somalia. The only paid staff with administrative responsibility are a programme manager and deputy manager on the ground in Somalia, who themselves are also involved in the educational aspects of the project
deciding ultimate policy for the project.
The committee is now looking at new funding streams and, although the committee has traditionally been comprised of refugees from the region, anyone with fundraising or other skills would be welcome to join.
The committee's functions are however not undertaken in isolation and there is regular communication with those directly running the project including visits to the Bursalah region followed by reports back to the committee in London.
The project itself is run on the ground by two bodies, membership of both of which is based on elections held at least every 3 years:
School governors
This body is responsible for the day to day running of the educational side of the project, ensuring that policy is not decided by the head teacher only. It is comprised of the headteacher, teachers representatives and local residents including parents of pupils. All that the non-teaching representatives need is the well being of the school at heart and an adherence to the philosophy regarding the link to education and development.
Board of trustees
This body has a wider remit to cover the developmental needs of the region around Bursalah not just the educational aspects of the project. It is comprised mainly of individuals of influence in the area and makes decisions on priorities for the further development of infrastructure in and around Bursalah.
For further information on the project or the situation in Somalia, go to "Contact Us" and send us your inquiry.