Day at school
A day at Bursaalax school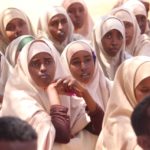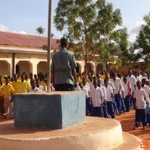 The start – 6.00pm
The day at Bursalah starts early as the pupils in the boarding facility have to be woken, fed and got ready for school.
Morning classes – 7.00am to 12.00pm
These involve half the students on every day of the week except Friday when religious activities are arranged and start with students forming in lines outside the class rooms before beginning their studies. There is a short break half way through the morning and facilities for the students to relax are available with particular emphasis on creating an environment suitable for the female students.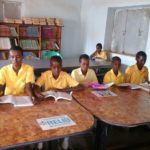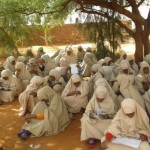 For those boarders not involved in the morning classes as well as any other students wishing to participate, sports such as football, basketball and tennis as well as other competitive games are arranged, while those wishing to be less active can have access to the school's library or other facilities which are always open even if not being used.
Afternoon classes – 1.00pm to 6.00pm
After a break for the teachers to recuperate, classes resume for the other half of the students with a similar range of recreational activities being available.
Close of the day – 6.00pm onwards
Recreational activities and self study continue until the school is closed and the boarders return to their accommodation to get some sleep in preparation for the new day.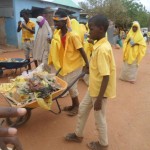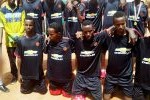 Extra-curricular activities
As an alternative to the above routine, the school arranges activities such as:
concerts and dances to traditional music in which the students and residents of Bursalah both participate.
trips to outlying villages in which students participate to advertise the benefits of engaging in the educational and development work of the project.
undertaking work in the Bursalah town to improve the environment and introduce students to the nature of development work.
For further information on the project or the situation in Somalia, go to "Contact Us" and send us your inquiry.